Why Non-fungible Tokens are taking waves and breaking sales ceilings.
Views:
291 |
By
:
Alice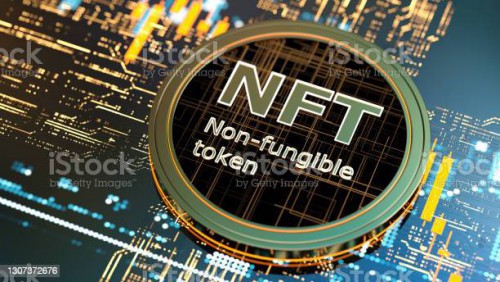 This year Non-fungible tokens (NFTs) sales have explosively skyrocketed by 24 folds from $ 53Million from the earlier quarter to 1.2 billion dollars.
The market has snowballed and gained tranction in major online platforms because many people, especially celebrities and big fish, scramble to buy the nuts, symbolizing their wealth.
NFT's digital assets ownership and authenticity are verified on a decentralized ledger known as the black chaining.
What are NFTs?
An NFT is a digital asset that exists on a blockchain. The blockchain serves as a public ledger, allowing anyone to verify the asset's authenticity and ownership.
NFTs enable users to own rare digital artifacts through the blockchain network that backs cryptocurrencies.
NFTs allow ownership of forms of art, tweets, music, GIFs, and digital assets.
A brief history of NFTs
Non-fungible tokens, or NFTs, are a new way to represent ownership of digital assets on the blockchain.
The first NFT was CryptoKitties in 2017, which allowed users to collect, buy, and sell virtual cats. Since then, they have become popular in gaming as an alternative to game items bought and sold on secondary markets (which is their original meaning).
But, NFTs go beyond the game space. You can use them to store identity information or anything that requires proof of ownership.
The future of NFTs
NFTs are a relatively new concept in the cryptocurrency space, but they're already making waves.
The idea is simple, create a physical asset that can be bought, sold, and traded in exchange for crypto assets.
The TKN Community Token (TCR) is the first NFT on the Tron blockchain. A few others are in development, and many more are planned to be launched soon. The TCR is used to govern the TKN community and can vote on future developments.
The token is also used as a reward for participating in community votes.
Unique signature
unlike most digital items, each NFT has a unique digital signature, meaning it is one of a kind.
NFTs are usually bought with the cryptocurrency Ether or in dollars, and the blockchain keeps a record of transactions.
While anyone can view the NFTs, the buyer has the status of being the official owner - a kind of digital bragging right.
NFTs are represented by code on a decentralized digital ledger called a blockchain.
Each NFT can be bought and sold, just like any asset, but the blockchain allows for the ownership and validity of each to be tracked.
The technology is exceptionally versatile, and innovations are happening rapidly, exciting for investors in the space.
Non-fungible tokens (NFTs) are breaking new records in the cryptocurrency world.
NFTs enable users to own rare digital artifacts through the blockchain network that backs cryptocurrencies.
End.