There Is Gold In The Trash-Be Creative.
Views:
418 |
By
:
Alice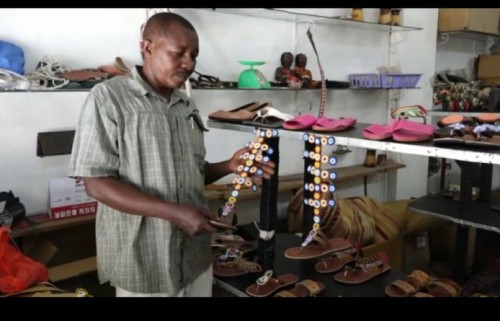 Despite tons of rubbish being dumped daily as waste material worldwide, There is Gold in every trash; all you need is a razor-sharp mind, super-strong confidence, unwavering dream, ambition, and being a business acumen.
That is a lesson passed to the world by Michael Nzuki, the Director of Anzuki recycle designers in Malindi. And he has proved that any opportunity to change one's life is a worthwhile endeavor.
Nzuki is making strides in the business sector by reusing dumped plastics, worn-out tires, leather coats, leather bags, and various other items considered useless when overused to make different products he exports worldwide.
According to Nzuki, his business idea was born out of his passion for keeping the beach clean to save humanity from climate change and save aquatic creatures.
He is also a super excited man saying despite creating employment for almost 100 youths, he has also managed to reduce malaria transmission.
However, his business is among many within the country hit hard by the covid 19 chronicles.
With such initiatives, Nzuki is not only turning trash into gold but also helping generate income while at the same time conserving the environment.
Ends